Why Shop at Moran Blue Water Chrysler Dodge Jeep Ram in Fort Gratiot, MI?

When it comes to finding the right automobile to propel you forward, you might have to face a few hurdles. We at Moran Blue Water Chrysler Dodge Jeep Ram are here to minimize that difficulty when you stop by our location for all of your automotive needs. From your service requirements to financing, we make sure your experience is professional and satisfying from start to finish. Stop by our location at 4080 24th Avenue in Fort Gratiot, MI, 48059.
Makes & Models
One of the main reasons to trust us with your driving necessities is that we incorporate a long list of top-notch driving options on our lot. That includes brand-new Chrysler, Dodge, Jeep, and Ram vehicles that all include some of the latest safety systems, technology features, and thrilling performance specs. If you are in the market for an SUV or family-size vehicle that includes plenty of room for the entire family, consider looking at the Dodge Durango, Chrysler Pacifica, or Jeep Grand Cherokee. On the other hand, if fuel efficiency is your main concern, then you can't go wrong with the Chrysler 300, Dodge Charger, or the Challenger to breathe life into your daily trips. These can all be test driven when you swing by our location, and we would be happy to fill you in with the all of the details of what these vehicles have in store.
Financing Made Easy
After you find the right model, it is time to decide whether you would like to finance or lease your purchase. This is an area in which we thrive, as we have a team of well-versed financial experts that are skilled in devising plans for our clients that integrate into their budgets flawlessly. Gone are the days of worrying about receiving a less-than-ideal contract, as we will work one-on-one with you to make sure that you leave our location feeling confident. The best way to get this process started off on the right foot is to head to the Finance dropdown at the top of your screen to tap into all of the tools that we have available to streamline the process. Here, you can fill out our online Finance Application that allows us to start searching for the right loan for you through our local banks and lenders. Then, you can come down and finalize the deal!
Service Center
Whether you have just purchased a vehicle from us or have been a customer for a long time, we want to keep our clients' vehicles running up to par for the long term. That is exactly why we have a Service Department on site that is equipped with all of the tools and technology necessary to keep your vehicle running in an optimal manner. We also make sure that each of our technicians is skilled with Chrysler, Dodge, Jeep, and Ram driving options, so you can trust that we know our way around your prized model. So, if your check engine light has recently illuminated or you have worn your tires down to the nubs, we are prepared to get your vehicle taken care of in a prompt manner so you can get back to your daily tasks in no time at all.
Have you asked yourself, "Why shop at Moran Blue Water Chrysler Dodge Jeep Ram in Fort Gratiot, MI?" The answer is very clear once you meet with our friendly representatives today to have all of your questions answered!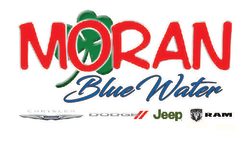 Moran Blue Water Chrysler Dodge Hours
810-385-4481
| | |
| --- | --- |
| Monday | 9:00 am - 6:00 pm |
| Tuesday | 9:00 am - 6:00 pm |
| Wednesday | 9:00 am - 6:00 pm |
| Thursday | 9:00 am - 6:00 pm |
| Friday | 9:00 am - 6:00 pm |
| Saturday | 9:00 am - 2:00 pm |
| Sunday | Closed |
Testimonials
Great Service!
Clinton Twp, MI
7-22-2019
Recommend Moran Chevrolet!
Fort Gratiot Twp, MI
7-17-2019
You guys are AMAZING!
Taylor, MI
7-15-2019
Highly Recommend!
Fort Gratiot Twp, MI
7-8-2019
MORAN is the place you want to get your vehicle from!
Taylor, MI
6-14-2019
Great and friendly service department!
Clinton Twp, MI
6-12-2019
Would definitely recommend!
Taylor, MI
6-10-2019
Very Polite Staff!
Fort Gratiot Twp, MI
6-5-2019
Went above and beyond for me!
Clinton Twp, MI
6-1-2019
Thank you for good service on my Equinox!
Clinton Twp, MI
5-31-2019
5 stars are not enough!
Taylor, MI
5-24-2019
Fast and convenient process for leasing!
Clinton Twp, MI
4-27-2019
Enjoyable car buying experience!
Taylor, MI
4-23-2019
Exemplary level of service and customer care!
Clinton Twp, MI
4-19-2019
My experience with Moran was excellent!
Fort Gratiot Twp, MI
4-16-2019
Timely and professional!
Fort Gratiot Twp, MI
4-6-2019
Amazing customer service!
Clinton Twp, MI
4-1-2019
Attention to detail, flexibility and willing to go the extra mile!
Taylor, MI
4-1-2019
Very pleased and happy!
Fort Gratiot Twp, MI
3-20-2019
I recommend Moran for new car purchase or lease!
Fort Gratiot Twp, MI
2-23-2019
Read More