Chrysler Dodge Jeep Ram Dealer in Fort Gratiot, MI

We at Moran Blue Water Chrysler Dodge Jeep Ram have recently opened our new location, and our goal is to make a stamp in the community by providing a comprehensive automotive experience. From boasting top-notch driving options to keeping a well-stocked Parts Department, our main concern is to streamline your driving needs one step at a time. So, whether you need to finance a new model or are ready to get your tires rotated, stop by our new location at 4080 24th Avenue in Fort Gratiot, MI, 48059!
New & Pre-Owned Vehicles
We keep an expansive stock of automobiles on our lot so you can have your choice of the cream of the crop. This includes popular Chrysler and Dodge models like the Chrysler 300 or Dodge Charger for the thrill seekers that want to take things to the next level on the interstate. We also play host to opulent driving options like the Jeep Grand Cherokee for the family that wants to roll around town in the lap of luxury. Whatever your muse may be, we have something for you, and you can begin your search by clicking on the New dropdown at the top of your screen to find a few that spark your interest. Or, if you want to save some cash, consider taking control of our Certified or One-Owner driving options for a vehicle that is like-new at a fraction of the price.
How Do I Finance or Lease?
We won't leave you to fend for yourself once you find the model of your dreams. In fact, we are here to fill you in with all of the details of the purchasing process to make your dealership experience quick and stress free. That is exactly why we offer competitive leasing plans that allow you to borrow your prospective vehicle from us for a set mileage and period of time. This way, you can upgrade to one of the latest and greatest models to hit our lot in two to four years when your contract is complete. If you are the type of driver that likes to see a return on your investment, then you will also be happy to know that we offer financing plans that allow you to take home the vehicle you are interested for a monthly rate that won't break the bank. Then, you can pay it off steadily and have full ownership by the time your contract ends in four to seven years!
Service & Parts Department
We couldn't just leave you hanging once you take your vehicle home and experience inevitable maintenance requirements. That's why we have introduced a full-fledged Service and Parts Department at our dealership so you can also get your fixes taken care of at this same location! This way, you can avoid shopping around with multiple mechanics and feel confident that our expertly-trained staff will get your vehicle fixed the right way. If you have any questions for us, we would be happy to answer them when you voice them through the Ask a Tech form. We also understand that tires wear out and light bulbs fade away, which is why you can visit our Parts Department to get your much-needed pieces back onto your ride as soon as possible.
We are the Chrysler Dodge Jeep Ram dealer in Fort Gratiot, MI, that you can feel confident in, here at Moran Blue Water Chrysler Dodge Jeep Ram. We look forward to helping you with all things automotive!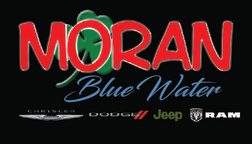 Moran Blue Water Chrysler Dodge Hours
810-385-4481
| | |
| --- | --- |
| Monday | 9:00 am - 6:00 pm |
| Tuesday | 9:00 am - 6:00 pm |
| Wednesday | 9:00 am - 6:00 pm |
| Thursday | 9:00 am - 6:00 pm |
| Friday | 9:00 am - 6:00 pm |
| Saturday | 9:00 am - 2:00 pm |
| Sunday | Closed |
Testimonials
Great Service!
Clinton Twp, MI
7-22-2019
Recommend Moran Chevrolet!
Fort Gratiot Twp, MI
7-17-2019
You guys are AMAZING!
Taylor, MI
7-15-2019
Highly Recommend!
Fort Gratiot Twp, MI
7-8-2019
MORAN is the place you want to get your vehicle from!
Taylor, MI
6-14-2019
Great and friendly service department!
Clinton Twp, MI
6-12-2019
Would definitely recommend!
Taylor, MI
6-10-2019
Very Polite Staff!
Fort Gratiot Twp, MI
6-5-2019
Went above and beyond for me!
Clinton Twp, MI
6-1-2019
Thank you for good service on my Equinox!
Clinton Twp, MI
5-31-2019
5 stars are not enough!
Taylor, MI
5-24-2019
Fast and convenient process for leasing!
Clinton Twp, MI
4-27-2019
Enjoyable car buying experience!
Taylor, MI
4-23-2019
Exemplary level of service and customer care!
Clinton Twp, MI
4-19-2019
My experience with Moran was excellent!
Fort Gratiot Twp, MI
4-16-2019
Timely and professional!
Fort Gratiot Twp, MI
4-6-2019
Amazing customer service!
Clinton Twp, MI
4-1-2019
Attention to detail, flexibility and willing to go the extra mile!
Taylor, MI
4-1-2019
Very pleased and happy!
Fort Gratiot Twp, MI
3-20-2019
I recommend Moran for new car purchase or lease!
Fort Gratiot Twp, MI
2-23-2019
Read More